Frameless Glass Balustrade installed for a client balcony area in Upminster, Essex.
Frameless glass balustrade is becoming more and more popular as people search for contemporary ways to improve their homes and outdoor spaces. A Frameless Glass Balustrade adds style to any space whether it be a glass staircase or for a protective barrier to a terrace or decking area outside or to a Juliet balcony replacing the old-style wrought iron railings. Why use frameless glass? Initially it adds a certain style to a modern looking property, but more than ever we are looking, especially across London and Essex, to add more light to our homes and commercial spaces, frameless glass balustrades allow light to flood into your property from the outside. 
On the inside glass balustrade allows light to filter through to more spaces within your home, but it also gives the illusion of more space as you can see through it, so the concept of light and space is multiplied by frameless glass balustrades within your home as well. Consider this .. if you have a converted loft spaces with a frameless glass Juliet balcony on the outside imagine how much light will penetrate through into your property. 
Here at Visage Glass and Steel Ltd we have been specialising in frameless glass balustrades across London and Essex for a number of years, we can advise you on the best options and ideas for your projects to increase the volume of light into your property. We have worked on commercial and residential projects and we would encourage you to have a look at our glass balustrade page here Bespoke Glass Balustrade Company based in London/Essex (visageglassandsteel.co.uk) where you can look at many of the projects we have completed over the years.
Frameless rooftop Glass Balustrade installed in Clapham, South London. Using 17.5mm toughened laminated opaque glass panels
Adding A Glass Balustrade To Your Decking Adds Style
The beauty of a glass balustrade decked area or patio is  that while you're sitting enjoying your summer barbecue nothing is going to spoil that your view  of your landscaped garden,  you're also able to watch your children in the garden playing and having fun and it looks like your decking is actually floating as well. The other benefit is that the decking railings do not spoil the view of the house from the back of your garden. Glass balustrades on decking areas have become very popular in the last 2 to 3 years updating the old spindle style giving a more stylish and contemporary look that gives your garden the wow factor and certainly adds value to your home.
So How Do We Install Frameless Glass Balustrades
Every one of our frameless glass balustrades are bespoke installations, no two are the same and we tailor make them for each client whether that be residential or commercial. We only use the best high-quality materials from our trusted suppliers, we can install various glass sizes depending on the project and we install with certain types of glass that include clear toughened, satin finished and toughened laminated glass. In addition to utilising the best materials we also adhere to the highest health and safety regulations with the glass we use and the system that we install.
The type of glass that we offer includes Clear Toughened, Satin Finish and Toughened Laminated and our thickness of glass ranges from 10 mm to 21.5mm so as you can see we have a range to suit any glass balustrade decking fit out. So as you can see if your looking to fit glass balustrade in your garden and especially your decking area in Essex it will certainly be worth having a chat with us as we can advise you on the best combinations of rail and glass for the project you have in mind.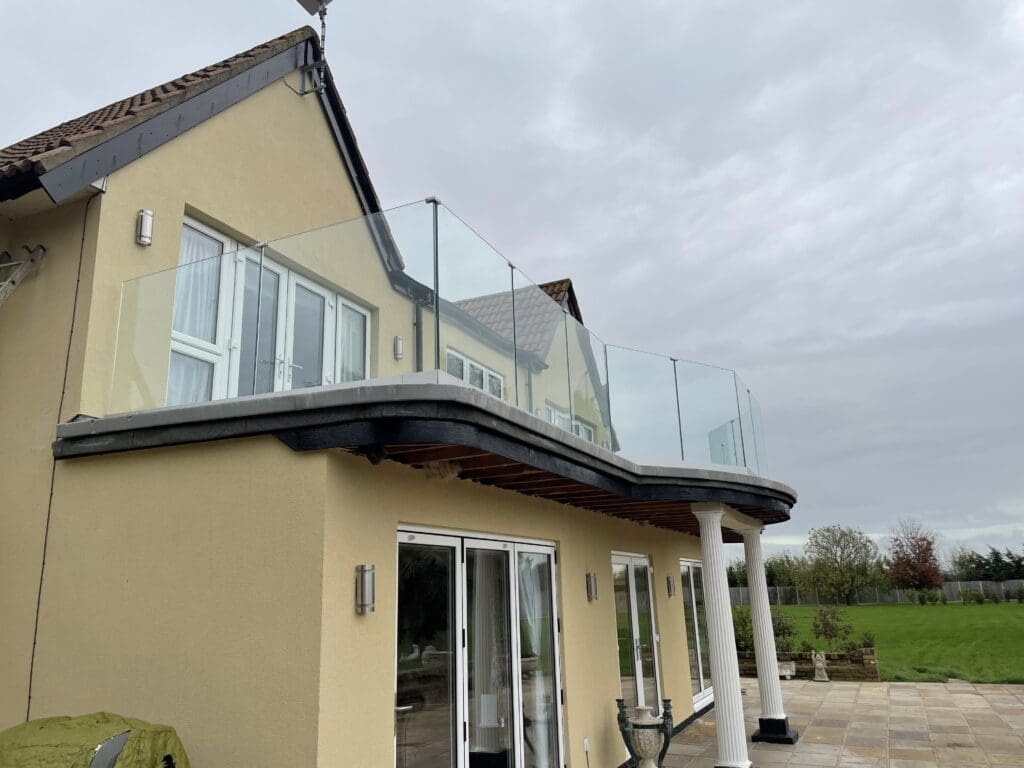 Frameless Glass Balustrades Define Your Boundaries Elegantly
The beauty of a frameless glass balustrade is it will define the boundaries of your property without interruption of the look of the property. This gives you a perfect finish to any decking, balcony or patio area. We will ensure that your frameless glass balcony, staircase or outside area will be paired with an industry leading glass railing system with stainless steel handrail should you wish. Some clients ask us for a polished wood effect which is also a possibility for your handrail finish, giving your frameless glass balustrade a stylish modern look or an elegant timeless finish.
We provide our Bespoke Frameless Glass Balustrade services all over London, Essex and the south east, so please get in contact today to discuss your Frameless Glass Balustrade project.
07903166333