Glass Staircase specialist based in Essex
Does your old timber staircase require an update to a new modern, stylish design glass panel staircase.
See below a staircase refurbishment completed for a customer Brentwood, Essex. We supplied and installed the new oak slotted handrail and base to suit 10mm clear toughened.
A staircase renovation for a client in Brentwood, Essex. Installing a new slotted handrail and base rail for for 10mm clear toughened glass
So if you're after something similar to this, please get in contact here
We provide our services all over Essex, London and the home counties
Welcome to Visage Glass and Steel Essex's premiere glass staircase fitters. We assume that you have landed on this page of our website as you are looking to fit a new glass balustrade staircase into your home that you are refurbishing or perhaps you are building a brand new home and you would like to give your hallway the wow factor with a bespoke glass balustrade staircase. Over the past  years we have fitted many glass staircases across Essex and London into bespoke environments for homes and commercial buildings. Perhaps you are looking to have a new contemporary glass staircase fitted either as a replacement to your existing staircase, that may have the classic spindle look or simply wooden banisters running down the walls coupled with the traditional panelling, if this is the case we can certainly help you to fulfil your vision.
Are you based in Essex and are looking to renovate your old timber staircase and replace with a stylish modern glass balustrade staircase?

At Visage glass and steel, not only can we supply and install your new glass panels to an existing staircase. We can completely revamp your old staircase. Replacing the old timber handrails, base rails, newell post and spindles with brand new timber work. To find out more about the glass balustrade staircase services we can provide. Please feel free to contact Joe on 07903166333 or email [email protected]
See below before and after pictures of a recent glass balustrade staircase renovation completed for a customer in Galleywood, Essex.
The Benefits And Beauty Of A New Glass Staircase
The beauty of a glass staircase is not only does it look contemporary, butwithin its nature whether fitted inside or outside the glass staircase gives the effect of more space in your home or your outdoor area by allowing the light to shine through and bounce off the glass it will also brighten your home. If you have a look here on our glass staircase page you will see some examples of glass staircases that we have fitted. This will hopefully give you some ideas as to how you would like your glass staircase to look or perhaps inspire you as to the effects we can achieve for your new glass balustrade here at Visage Glass And steel.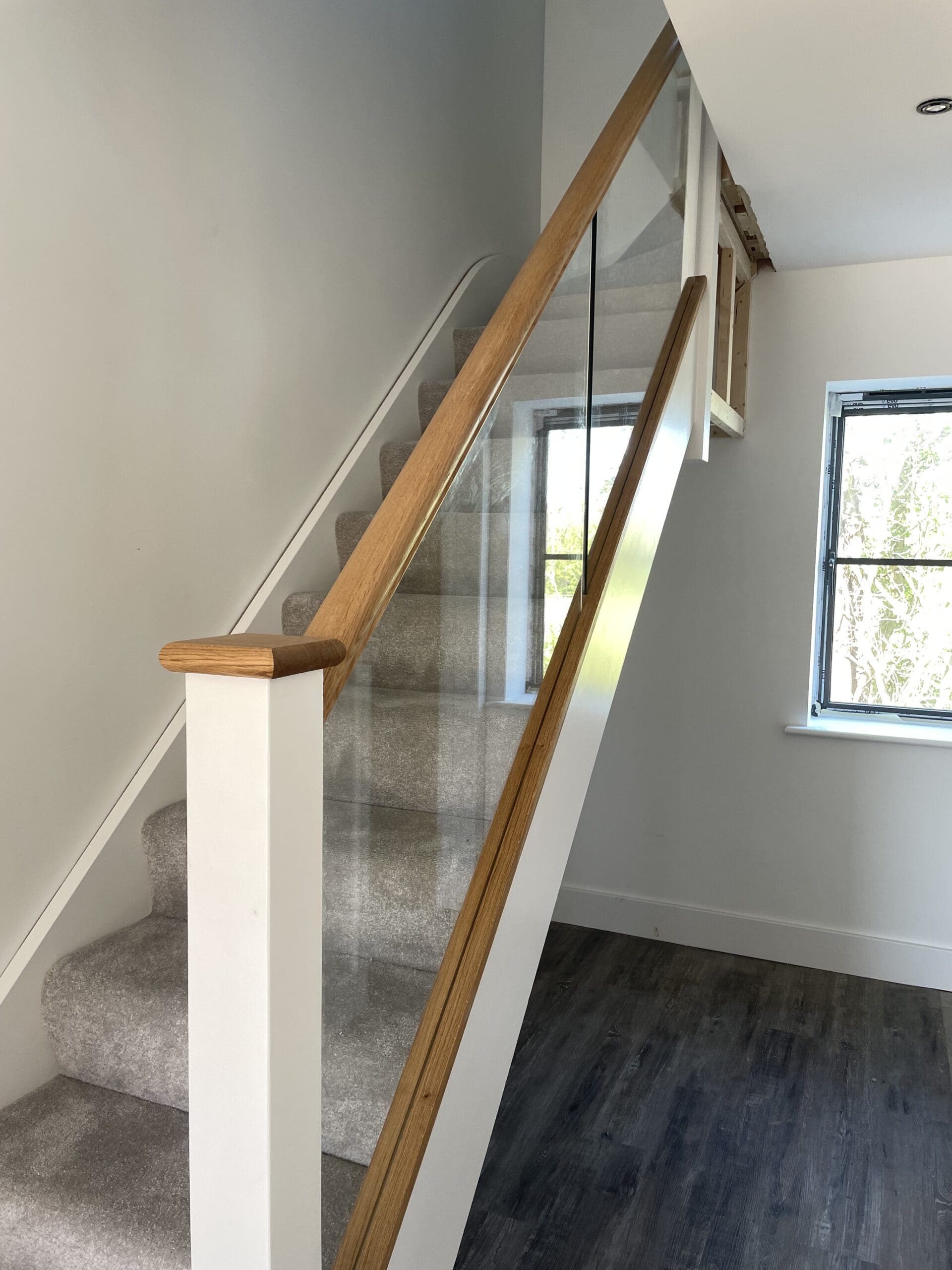 The Finish Of Your Glass Staircase In Essex Can Add Style To Your Home
The finish of a glass panelled staircase adds a certain style and modernism to your home. We can install the glass panels with a variety of fittings and fixing methods again adding style and a contemporary look to your staircase, mixing the elements of wood and glass together and adding style perhaps with a smoked glass look or a tinted glass, to become part of the flow of the look of your new home or refurbished room.Glass can fit in with any style staircase and can be used alongside a beautiful hardwood handrail or as a modern frameless balustrade. Glass balustrades add refinement to any contemporary staircase, blending well with both modern or more traditional interiors, adding structure and more importantly safety.Staircases used to just be a functional piece of architecture to get you from one floor to another, now they are works of art within your home and also add to the functionality of room and spaces.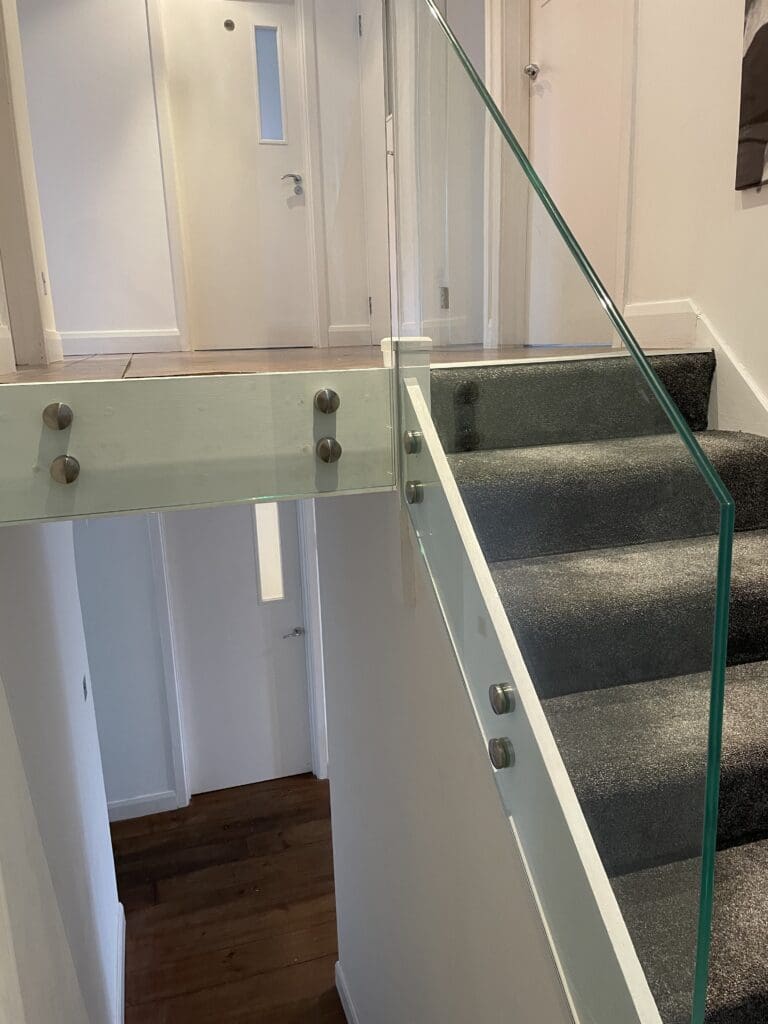 So if you have decided to explore the possibility of having a new modern contemporary glass staircase installed in Essex in more detail then feel free to contact us through our website here  or feel free to call us on 07903 166333. One of our team will be more than happy to discuss the next steps with you and start to help you to plan your new glass balustrade staircase.