Your residential or business structure can benefit greatly from the addition of a glass staircase. It not only gives the room a modern, contemporary appearance, but it also lets light pass through, providing vitality and brightness to otherwise dark portions of the building. This is where Visage Glass and Steel come into play because we are the top glass staircase and balustrade installers in London, Essex, Hertfordshire and Kent. A glass staircase will undoubtedly increase the wow factor of your home, whether you want to replace an old-style staircase with something more modern and contemporary or you're building a new home and want to add features that add light and space. Commercial buildings might occasionally be a touch gloomy and uninspiring but installing glass staircases with steel rails can modernise even the most uninteresting of commercial areas. Check out our portfolio Bespoke Glass Stairs in Hertfordshire to see some of the numerous glass staircases we have installed in the home counties over the years.
Are Glass Staircases Safe?
The question of safety always arises when people think about installing glass balustrade, whether it be inside as part of a stairway, outside in the form of a glass balcony, or even outdoor glass balustrade surrounding a patio or decking area. Glass is known to be a delicate material, so will it be safe? First off, every glass panel we install is a custom piece that will give your project a distinctive vibe. Naturally, we adhere to construction codes, and this includes installing your glass staircase in the best and safest manner possible. More details regarding our product fittings and glass specifications are available here.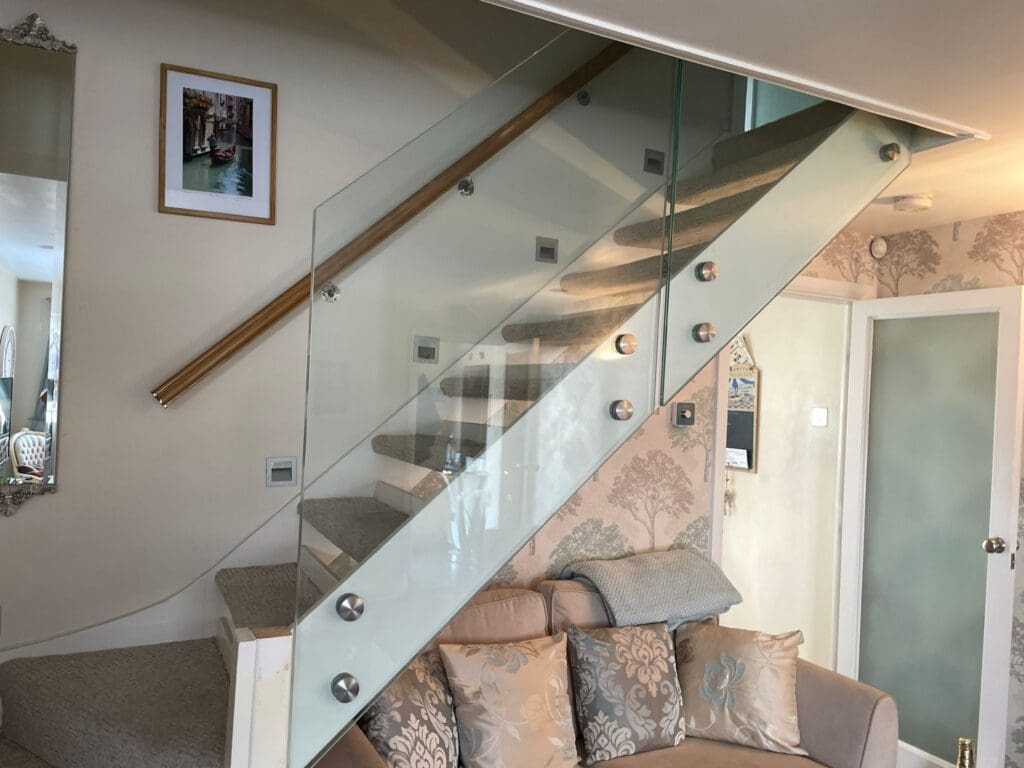 Your Environment will become more Contemporary Modern with a glass staircase
Finishing the glass panelled staircase adds a contemporary and fashionable touch to your home. We may install the glass panels using a variety of fitting and fixing methods to accentuate the style and merge the elements of wood, steel and glass together. To complement the overall style of your new home or refurbished room, we can also add flair by adding tinted or smoked glass. To mix nicely with any style of staircase, glass can be utilised as a modern frameless balustrade or next to a magnificent oak railing. Any modern staircase benefits from the elegance of glass balustrades, which also match both modern and more classic decor while, most importantly, providing stability and safety. Previously primarily used for moving between floors, staircases are now works of beauty that improve the functionality of your home's rooms and spaces.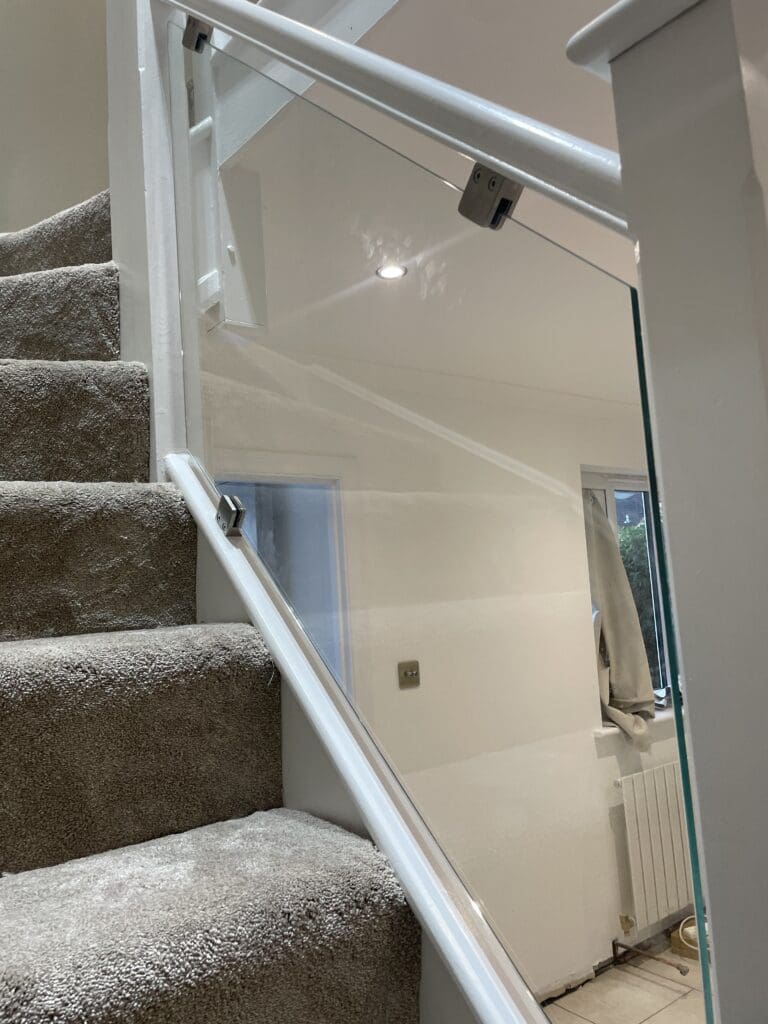 To discuss your early ideas and views before moving forward with your glass staircase, feel free to get in touch with us. Naturally, we will provide you with as much information as we can over the phone, along with a free, no-obligation quote. Call us at 07903 166333, or leave us a message through our website contact form here and we'll get back to you as soon as we can. If you provide a phone number, we'll make every effort to give you a call as soon as we can. We are eager to work with you to design the staircase of your dreams.
We also provide our services in renovating old timber staircases, whether you need to replace your old handrail and base rail with brand new timber and glass panels either using the slotted glass panel design or the glass clamp design. You may prefer the option of a frameless glass balustrade for you staircase. In Essex, Kent, Surrey and all areas of London
Please get in contact with Visage Glass and Steel today – 07903166333