If you are considering having a glass staircase fitted in Kent then we would certainly advise you to consider and speak with us, why? Because Visage Glass and Steel Ltd have been fitting glass staircases across the Southeast for several years covering Essex, Hertfordshire, Kent and London. We fit bespoke glass staircases and balustrade both inside and outside and we work within the residential and commercial sectors, whether it be your home or office space we can advise you of the most contemporary styles and solutions that are available for you today.
The Elegance of a Glass Staircase
The elegance of a glass staircase lies not only in its modern appearance, but also in the fact that, by nature, whether installed inside or outdoors, it creates the illusion of additional space in your indoor or outdoor environment by enabling light to pass through and bounce off the glass. You can see some examples of glass staircases we've installed here. Hopefully, this will inspire you to think about the design of your glass staircase or offer you some ideas for the effects we could create for your new glass balustrade here at Visage Glass and Steel.
A Glass Staircase will add Contemporary Modernism to your Environment
The glass panelled staircase's finish gives your house a touch of modernity and style. To blend the elements of wood and glass together and add style, we may install the glass panels using a variety of fittings and fixing techniques. We can also add flair by using tinted or smoked glass to blend in with the overall design of your new house or renovated space. Glass can be used as a contemporary frameless balustrade or alongside a lovely oak handrail to blend in with any kind of staircase. Glass balustrades offer elegance to any modern staircase, complementing both contemporary and more traditional decor, and, most importantly, adding structure and safety. Staircases were once only used as a means of transportation between floors; today, they are works of art that enhance the usability of your home's rooms and spaces.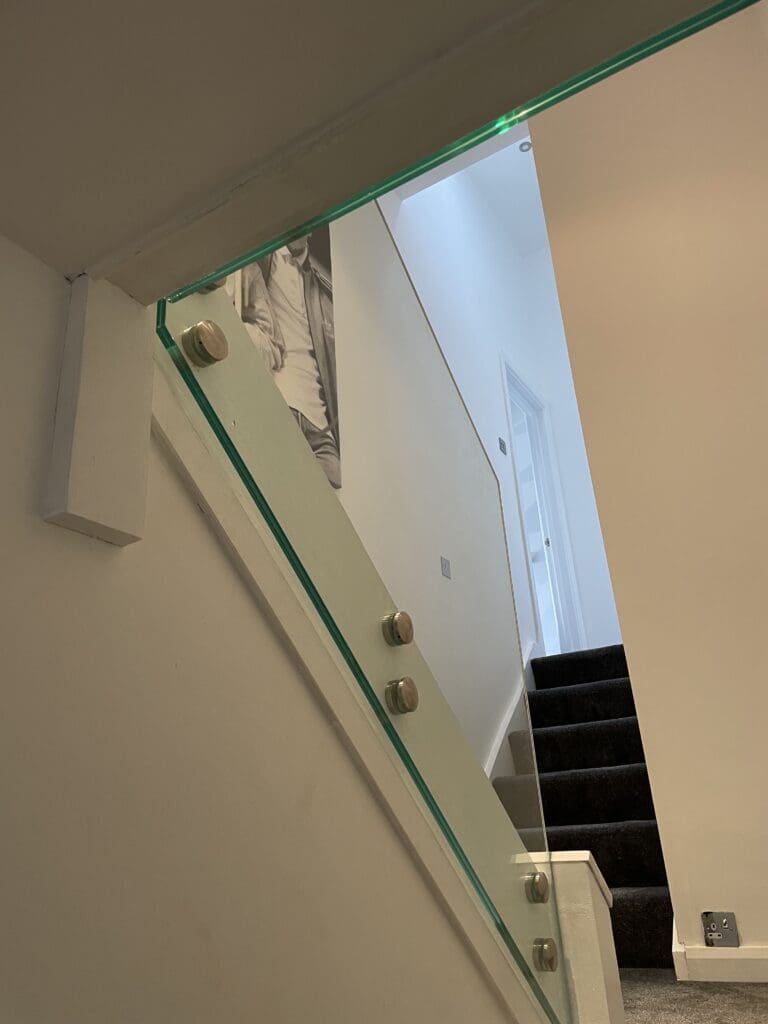 Would You Like To Speak With Us In More Detail?
So you have decided that you would like to speak with us in more detail about fitting a glass staircase in Kent. The next step is for you to get in touch with us so we can provide you more information about our products and fitting service. The best course of action would be for you to phone us at 07903 166333 so that we can speak with you in greater detail about the area you're looking to cover, and the style you are considering, or if you are unsure, we can of course at this stage suggest materials and styles to you that will fit seamlessly into the space you are considering.  As an alternative to phoning us , you can reach us using this link on our website. We would encourage you to send as much detail as possible so that we have a full understanding of your project once we do get to speak.
We also provide our services in renovating old timber staircases, whether you need to replace your old handrail and base rail with brand new timber and glass panels either using the slotted glass panel design or the glass clamp design. You may prefer the option of a frameless glass balustrade for you staircase. In Essex, Hertfordshire, Surrey and all areas of London
Please get in contact with Visage Glass and Steel today – 07903166333