A glass staircase can add many befits to your residential or commercial building. Not only does it add a modern contemporary look to the space, but it also allows light to flow through the space brightening dead areas of the building and bringing them to life. This is where Visage Glass and Steel come into play as we are premier glass staircase and balustrade fitters across London and Essex, so whether you are looking to replace an old-style staircase with something more modern and contemporary or whether you are building your own new home and are looking to add features that add light and space a glass staircase will certainly add to the wow factor of your property. Commercial properties can often be a little dark and dull but adding glass staircases with steel rails can certainly modernise the blandest of commercial spaces. Over the years we have fitted many glass staircases in London so do have a look at our gallery here Bespoke Glass Staircases London/Essex area (visageglassandsteel.co.uk) that illustrates some of our work.
Are you based in London and are looking to renovate your old timber staircase into a brand new stylish glass balustrade staircase?
A recent staircase renovation completed for a customer in Buckhurst Hill. We stripped put the old timber staircase and replaced with a brand new stainless steel handrail with stainless steel glass clamps using 10mm clear toughened glass panels. At Visage not only do we install stainless steel handrails, we can replace your old timber handrail with a brand new glass balustrade staircase with new timber handrail of your choice – Pine or Oak!
See below our recent glass staircase balustrade renovation in London.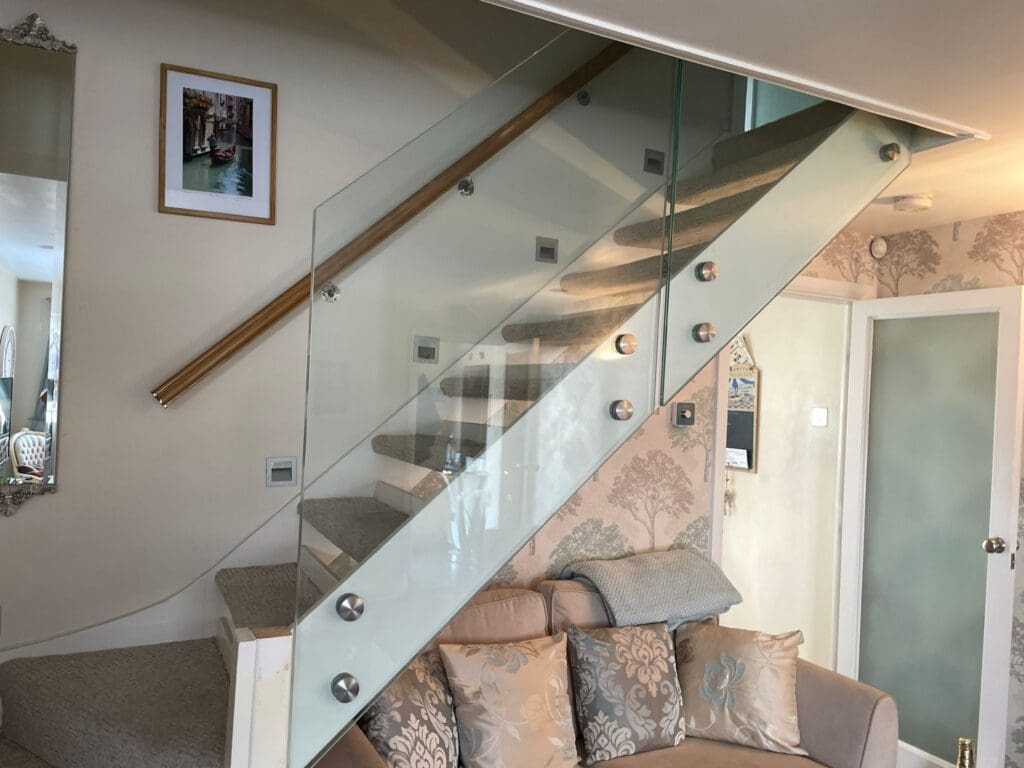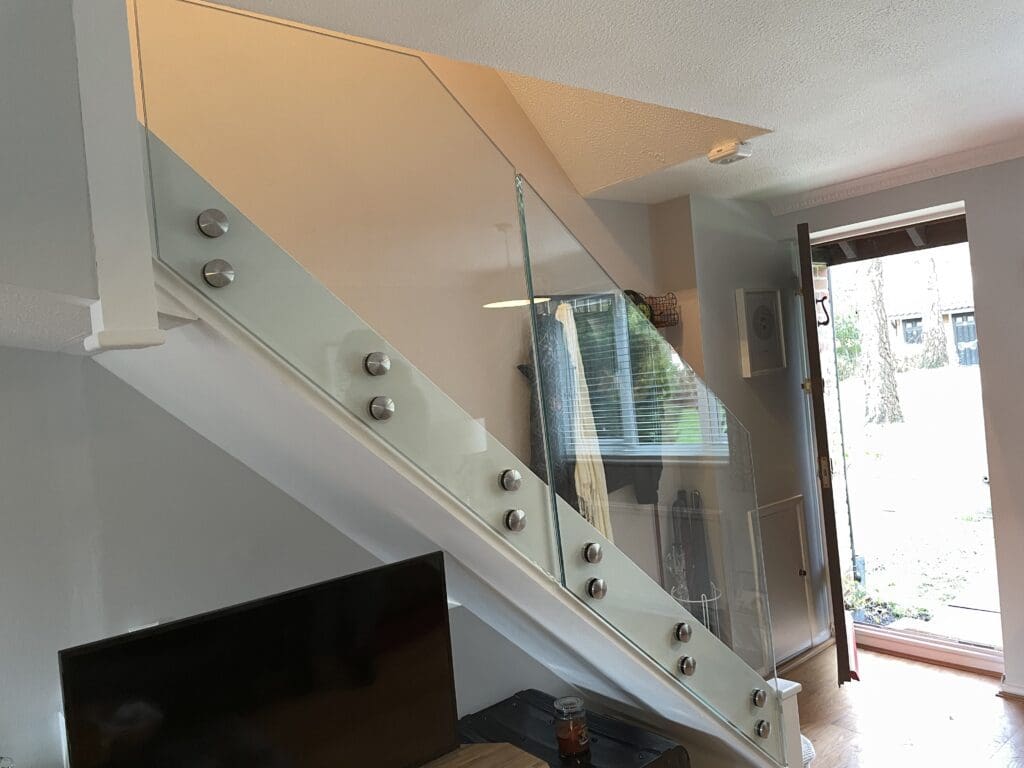 Is Glass Staircase Balustrade Safe?
When people consider fitting glass balustrade whether it be inside as part of a staircase or outside in the form of a glass balcony, or even outdoor glass balustrade surrounding a patio or decking area the question of safety always arises, as glass is foreseen as a delicate material, so will it be safe? Firstly, all our glass panels that we fit are bespoke pieces and will give your project that unique feel. We do of course work to building regulations which includes the most optimal and safest way to install your glass staircase. We have some more information about our product fixings and glass specification here.
Why Not Utilise Steel & Glass
If you are looking for something unique, we also design bespoke staircases to your specification as well. Have a look at some of the examples we have created commercially and domestically but do remember that these can be fitted for functionality outside of the building but inside they can add a real wow factor when combined with glass balustrade. Do have a look at some of the combinations we have created here you will see the contrast of steel and glass on the staircase really compliment each other and with the visualisation of the floating staircase and glass you can really create a feature within your home that is not only functional but also visually inspiring.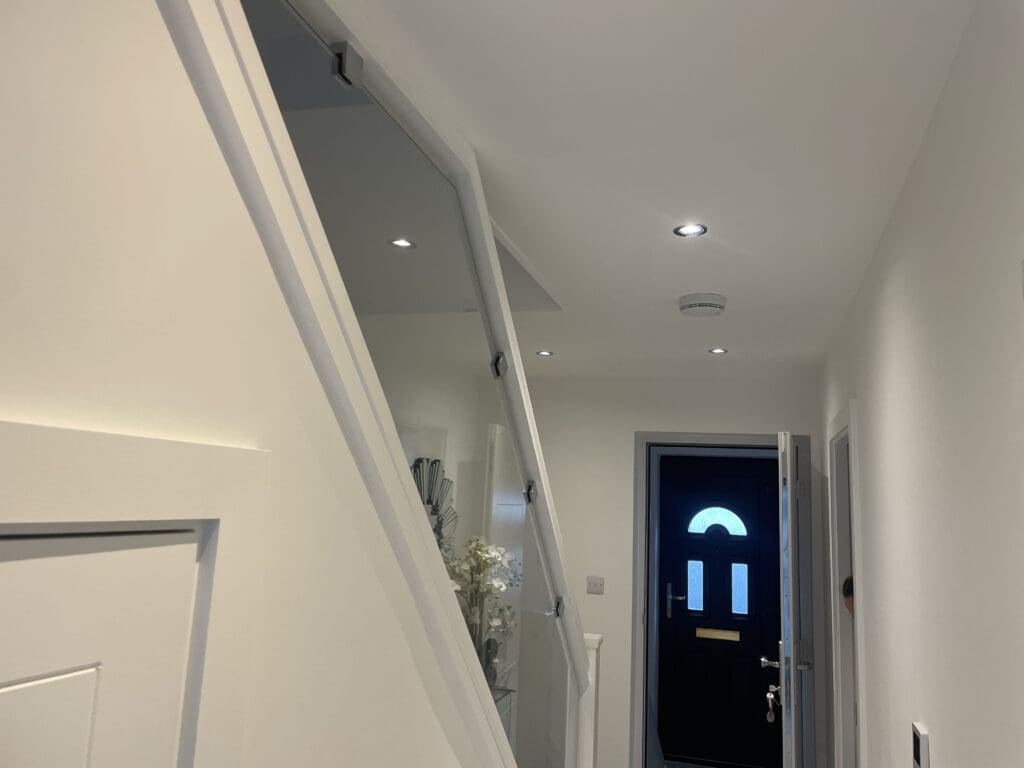 If you are ready to make your glass staircase project in London a reality, feel free to contact us to discuss your initial thoughts and ideas.  We will of course give you as much information as we can over the phone and provide you with a free no obligation quotation. You can call us on 07903 166333 or you can send us a message via our contact page here and we will get back to you as soon as we can. If you include your phone number, we will endeavour to call you back as soon as we can. We look forward to helping you create your dream staircase.
We provide our Bespoke Glass Balustrade services all over Essex, so please get in contact today to discuss your Glass Balustrade decking project.
07903166333